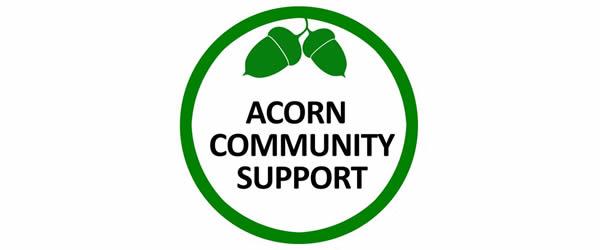 Acorn Community Support
The Surgery
Layne Fields
Christow
EX6 7NY
Email: Mandy Vellacott, Office Manager on office@acorncommunitysupport.co.uk or
Fran Peake, Community Care Manager on ccm@acorncommunitysupport.co.uk
Phone: 01647 252701
Office hours:
Monday - Friday - 9.00am - 1.00pm
All other times there is an answer phone which is checked 5 days a week.
Acorn Community Support is a charity based in the Teign Valley and Cheriton Bishop, to provide social care, support and comfort to those in need. Acorn, with the support of an army of fabulous volunteers, aims to provide services that improve quality of life and enable users to live at home independently with dignity and privacy.
Acorn works in partnership with the Teign Valley and Cheriton Bishop Practice of doctors and social care professionals to relieve sickness, preserve health and complement the medical services provided.
We employ two members of staff: Mandy Vellacott our Office Manager and Fran Peake, our Community Care Manager.
Acorn can help in many ways, for example:-
By providing transport to NHS appointments, including the doctor, hospital and chiropodist. Appointments for transport should be made at least 4 days in advance to ensure volunteer drivers could be secured.
By delivering prescriptions from local surgeries
By providing support for carers, the terminally ill and families

By providing minibus transport to Sainsburys in Alphington
By providing minbus transport for the various Lunch Clubs, Coffee Mornings and outings

Acorn Volunteers
If you would like to support Acorn by becoming a volunteer then please contact Mandy in the Acorn office. All our services are supported by volunteers and even volunteering for a few hours a month can make an enormous difference in the services we can provide.
Acorn Clubs and Services


Acorn Coffee Morning
Runs on alternate Tuesdays .
The coffee morning is held in the Teign Valley Community Hall 10.30 – 12.00 with many people popping in for a coffee and a chat with friends. Coffee, tea, biscuits and homemade cakes on offer and plenty of volunteers to make you welcome.
If you need a lift to this activity, or would like to volunteer, please contact Mandy in the Acorn office, 01647 252701.
Teign Valley Tuesday Lunch Club
Runs monthly and provides a regular lunch date, visiting various cafes and restaurants in the area. We use the Acorn minibus with its rear lift access for those who need it. Please contact Mandy at the Acorn office 01647 252701 if you wish to attend.
Cheriton Bishop Lunch Club
This regular monthly lunchtime meeting takes place on the first Tuesday at the friendly venue, The King's Arms in Tedburn St Mary. If you are not already on the list and wish to attend, please contact: Jean Martin on 01647 24586 to book (a couple of days in advance please).
Thursday Memory Cafe
We meet on the second and last Thursday of each month at Strawberry Hill, Dunsford. Please ring Jane Hancock on 01647 24092 for more information.


Cheriton Bishop Social
Fortnightly on Friday afternoon at the YF Federation Building in Cheriton Bishop. All welcome to come in for Tea/Coffee - cake and chat. Volunteer run and fun to be a part of. Just turn up

Sainsburys
Sainsbury's Weekly Minibus Trip - We have been running very successful weekly minibus trips to Sainsbury's Alphington for many years.
The bus for Drewsteignton – Cheriton – Tedburn, runs on alternate Wednesdays and the bus for Christow - Bridford - Dunsford - Doddiscombsleigh on alternate Fridays. Please phone Mandy to book a seat 01647 252701.
Minibuses
We have two minibuses. Our aim is to provide individuals with disabilities and those who have difficulty using public transport with a low cost, comfortable means of transport that has a tail lift to help the disabled on and off the bus, although clients should be able to transfer from wheelchair to minibus seat.
The bus can also be hired privately.

Excursions
Excursions are arranged to such places as Dartmoor, coastal resorts, garden centres, the theatre and pub lunches.
Donations
If you would like to donate to help keep this necessary charity running then please contact Mandy at the Acorn Office.
For all enquiries:
Telephone the Acorn Office on 01647 252701. Any messages left are picked up on a daily basis.
Office Hours: Monday, Tuesday, Wednesday, Thursday and Friday mornings 9.00am to 1.00pm
Charitable Incorporated Organisation 1194245

Name: Acorn Community Support
Address: The Surgery
Layne Fields
Christow
Exeter
EX6 7NY
Website: www.acorncommunitysupport.co.uk

Email: office@acorncommunitysupport.co.uk